San Bernardino County Ridership Campaigns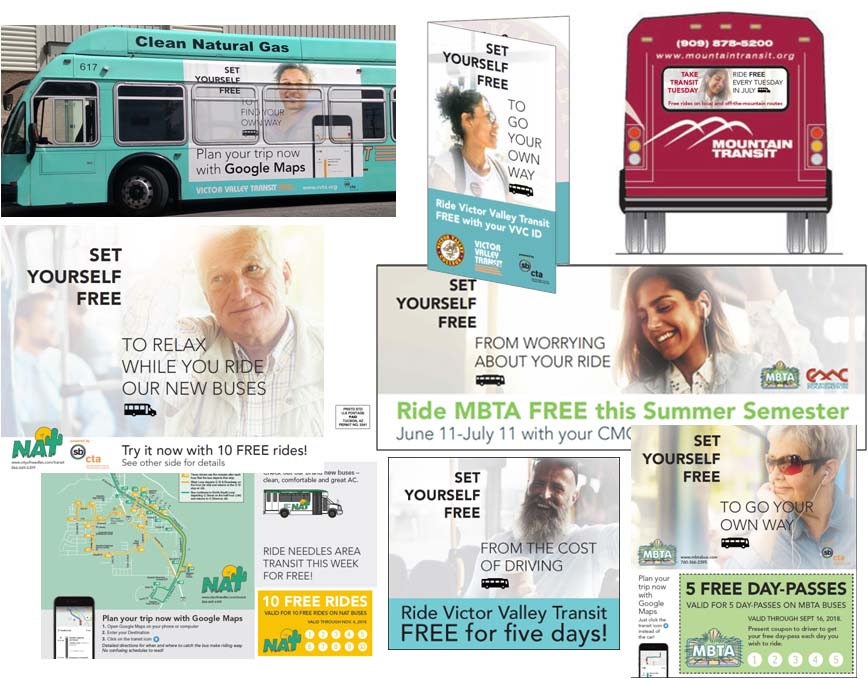 Under contract to the San Bernardino County Transportation Authority, Transit Marketing developed and implemented marketing campaigns for four  transit agencies in the mountain and desert regions of San Bernardino County.  The resulting campaigns generated ridership gains and won two AdWheel Awards. The objective of the campaigns was to build ridership using a combination of promotion and fare incentives.  Based on early research a common creative approach was formulated which highlighted the benefits transit offers to riders in rural and small urban areas. "Set Yourself Free" was the beginning of a headline which was completed in numerous ways for different target groups. Set Yourself Free from worrying about your ride, from the costs of driving, from having to ask for a ride and more. Customized marketing plans were developed for Victor Valley Transit Authority, Mountain Transit, Morongo Basin Transit Authority and Needles Area Transit.  Each campaign included a mix of strategies such as:
Enhanced passenger information tools
Geographically targeted direct mailers with a free ride offer
Outdoor campaigns (bus shelter and transit advertising)
Supporting print ads, posters and flyers
Social media posts
Facebook and Instagram Advertising
Targeted free ride days
On-campus college promotions
The campaigns accomplished three objectives: 1) They built ridership in each system and demonstrated the effectiveness of free rider offers in attracting riders. 2)They provided the agencies with long term marketing tools including improved websites and printed information. 3) Collectively they raised the profile of transit throughout the county.